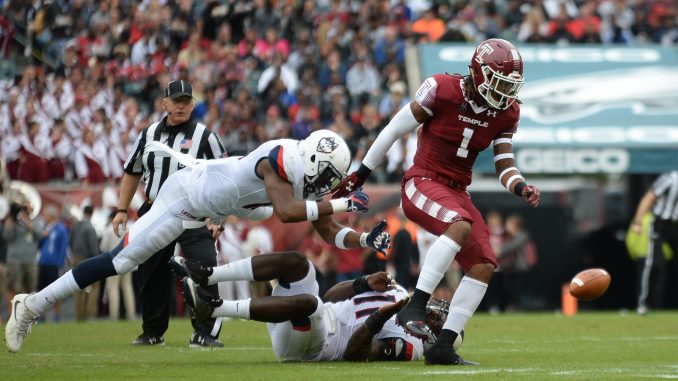 The Owls' mistakes continue to haunt these folks.
Penalties, dropped passes and suspect fourth-down play calling all had a consideration in the Owls' (3-4, 1-3 American Athletic Convention) 28-24 loss against Connecticut (2-4, 1-3 Your American) at Lincoln Personal Field on Saturday.
UConn's wining was its first succeed against a Football Jar Subdivision opponent in more when compared to a year. The Huskies were for a 10-game losing streak against FBS organizations prior to beating Temple.
"In online games like this, every single time that you drop a pass or maybe there's an incompletion on a makeable catch, of which sets you back, the item hurts the momentum, this hurts the tempo,Inches coach Geoff Collins said. "When we had been clicking and we were reaching on all cylinders, we had been moving the ball up and down the field."
Temple had a chance to get the game in the final tiny. After redshirt-sophomore kicker Michael Tarbutt missed the 36-yard field goal, the Owls obtained possession at their own 20-yard brand.
Redshirt-freshman tight end Kenny Yeboah and redshirt-junior going back David Hood's catches bundled for 36 yards to set Temple up in UConn territory.
But Your forehead started to make mistakes.
Redshirt-junior wideout Brodrick Yancy dropped redshirt-sophomore quarterback Logan Marchi's pass that would've also been good for a first down and much more possible yardage. Sophomore wideout Isaiah Wright dropped his second pass of the sport three plays earlier.
After Yancy's shed, Hood caught a pass in the flat. But instead of running out of bounds to stop the clock, Lid burned about 12 just a few seconds as he tried making a follow running across the field.
"In which play, I don't know what Bonnet was thinking," Wright said. "With time running out, it's hard to consider like that because you're trying to do what's best for the team."
Marchi chucked a Hail John toward redshirt-junior wideout Ventell Bryant, but it fell into incomplete as Temple made the ball over on downs with one second other.
Hood made a one-handed snag for 14 yards to make it fourth-and-7 as the Owls trailed 28-24 together with less than five minutes left while in the fourth quarter.
But instead of letting sophomore kicker Aaron Boumerhi attempt a field goal to restore a one-possession game, the Owls travelled for the fourth-down conversion. Redshirt-senior wideout Keith Kirkwood dropped this pass near the sideline.
"You simply gotta move onto the next play," Marchi said. "There's plays which will guys were wide open and i also missed them, so you may not be hard on those guys. And so they know they have to make the pick up and that's football, it happens. Everyone gotta move on to the next participate in and stay positive."
Collins said the particular Owls started off slowly on felony. Six of Temple's first 7 drives in the first fifty percent of resulted in either a punt or yield returns.
The Huskies entered the game ranked 127th out of 129 Division I programs overall defense. In each UConn's last five games entering Saturday, this Huskies allowed 38 points if not more.
Last week against East Carolina, the particular Owls put up a season-high 34 factors. Temple has only scored over 20 points three times this current year.
"We gotta execute and we didn't execute out there today,Inches Marchi said. "We gotta catch passes by and make the throws which might be there and move the ball better, but I thought most people did that better inside the second half moving down the field. You just gotta make the performs that are there."
Go to top rated
Notes
Freshman quarterback Todd Centeio will redshirt the season, attacking coordinator Dave Patenaude said. Centeio created his debut against the School of Massachusetts on Sept .. 15 and took not one but two snaps in the following game on Sept. 21 next to South Florida. He completed both of his pass attempts for 20 yards against the Minutemen.
Junior running returning Ryquell Armstead didn't practice all full week, but he played for Saturday. He had nine holds for 31 yards and a touchdown to lead the team. Bigger been dealing with a left foot or so injury, he said.
Redshirt-senior offensive lineman Leon Jackson sustained a lower-body injury while in the first half and quit the game on a cart. Redshirt-junior pungent lineman James McHale played in his place. Redshirt-freshman offensive lineman Vincent Picozzi started in place of redshirt sophomore Jovahn Honest, who hasn't played due to the fact sustaining an injury on Sept. 15 against UMass. Johnson might be evaluated by team doctors and undergo an X-ray testing this week, Collins said.